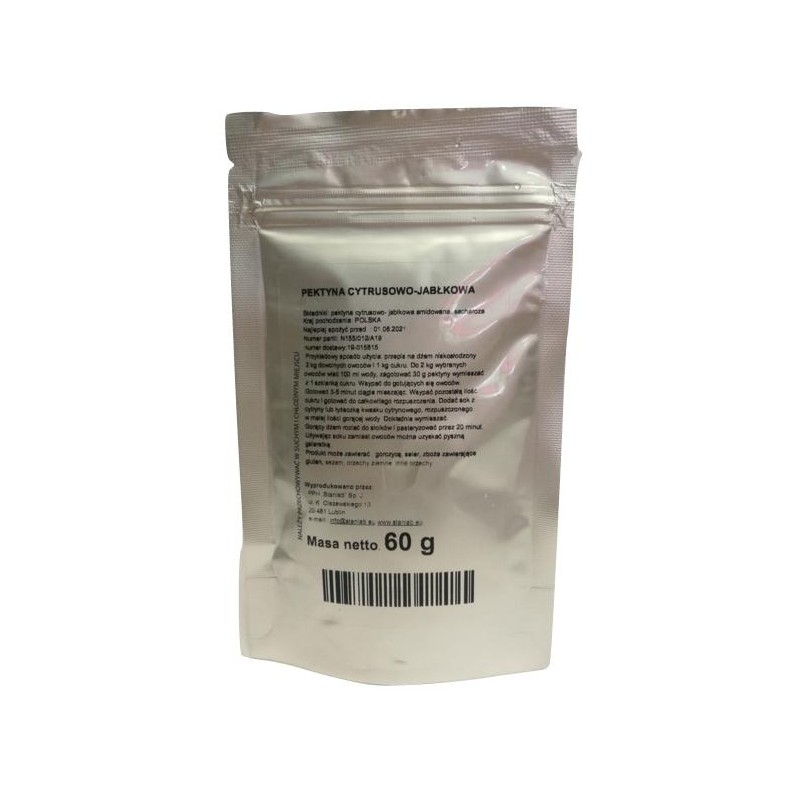  
CITRUS-APPLE PECTIN /60g/
Country of origin: Poland
Responsible entity: PPH STANLAB Sp.J
Best before end: expiration date and batch number on the package
Net weight: 60 g
Ingredients: Citrus-apple amidated pectin, sucrose.

An example of use: a recipe for low-sugar jam 4 kg of any fruit and 2 kg of sugar. Pour 200 ml of water into 4 kg of selected fruit, boil it. Combine 60 g of pectin with 2 cups of sugar. Pour into boiling fruits. Cook for 3-5 minutes while stirring. Pour the remaining amount of sugar and boil it to dissolve completely. Add lemon juice or a teaspoon of citric acid dissolved in a small amount of hot water. Mix thoroughly. Hot jam spilled into jars and pasteurized for 20 minutes. Using juice instead of fruit you can get a delicious jelly.

Storage conditions: store the product in a cool dry place in a tightly closed container.
1 other product in the same category:
Customers who bought this product also bought: